Let's get you to your destination in Comfort and in Style. Book your ride today: (503) 353-7755 or go to www.oregontowncar.com to make a reservation.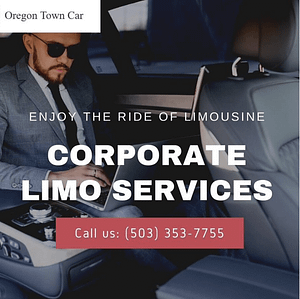 #corporatetransportationservices #grouptransportationservices #corporaterentalcar #limousineservices #limoservicesportland #airportlimo #oregontowncar #eventlimohire
Life has mundane things to offer and we chug along. But sometimes life gets really hectic and sometimes monotonous. To break the trail with some adventure or fun, traveling is the only way out. But the pandemic has taken away that escape too. But the important things always overshadow the fun trips. Doesn't matter if one is not able to travel for their peace, but one cannot stop traveling for their work. And best car rentals for easy yet safe travel are luxury car rentals. Let's have a look at 5 tips through which you can achieve a stress-free car rental:
Research: Before hiring any fleet from some random company, first do your research. Search for the best-rated limousine service provider; check their reviews on the web. It is imperative to find a luxury car service provider that is affordable yet luxurious and safe for your transportations.
Understand the rental agreement: Every car service provider has their own agreements to the use of their fleets. Some might complement your chauffeur service for your special event and in some, you might have to hire them another way.
The fleet features: Evaluate the features of your chosen luxury car or limousine. You might not want that blingy and high-class features in your fleet but high-quality chauffeur service. Take a deeper review of the fleet's features. Make sure that you do this inspection well; this might save you massive money.
Do not overlook luxury: The biggest point to hire luxury car rentals is to drive through your destination with luxury and comfort. No casual cab service is going to make your travel that hygienic and stress-free. Over-looking luxury would mean compromising on protocols and your health.
Focus on details: If the event for which you are hiring the limousines is a magnanimous one, make sure that your arrival is also like one! Renting the classiest luxury car of all times a limousine has it all but to double sure focus on the details of the fleet and the services luxury car service provider is offering.
Book the extravagant elegant and sanitized fleets of Oregon town car services today for a healthy and classy journey. We offer airport transfers, wedding arrivals, prom nights hire, anniversary date pickups, business transportations, and corporate travels. Ping us anytime to avail the lavishness of limousine travels. Contact us today!
Wedding day is one of the most special days in one's life. And the arrangements have to be top class including the wedding travel. The opulence must get reflected through your personality and adding a limousine is the best thing one can have on their wedding. Well, but is it only the limousine that you can hire for your wedding transportation? Probably, the answer would be limousine is a ritual for weddings. But the advanced and more charming stretch limousine also has to be the talk of the town. Let's have a look at what a limousine service offers you on your wedding travel:
Best Chauffeur service: Since a wedding is anyway a big event, it takes a lot of event managing and organizing everything up to the mark. One main reason for hiring a limo is also to avail the chauffeur service. And since it's a huge day, anybody would only ask for the best chauffeur service for themselves. So, a diligent chauffeur service is one thing to look for when hiring your wedding transportations.
Interiors on point: Event like wedding put a lot of effort into decorating and enhancing the aura and beauty of the place with the eye-catchy streamers, garlands, fixtures, and other things. Then how can wedding transportation not have the best interiors? When one asks for the limo service, they expect the best of it. And advanced amenities are what they wish to travel in.
Comfort and luxury: Organizing a wedding is not a piece of cake; it takes everything to organize such an event. But before the bride and the groom have to step up for vows they require a little relaxation and peace of mind out of this mess. And when you are hiring a wedding rental, the main purpose is to have a luxurious and comfortable ride to enjoy the very essence of such an important event of life that is just going to happen.
The grandeur of style: Arriving in style is one of the first things that come to your mind for a wedding. Limousine service thus provides you that grandeur on your arrival. The hug, posh, and elegant limousine is the benchmark of style and opulence that one seeks for!
To enjoy your wedding a little extra, hiring a stretch limo or limousine will be a booming experience. And make sure that your fleets are well-maintained and furnished. And for that, you must rely on the best car services only. Hire your wedding rentals from the Oregon Towncar services to endure a magnificent and affordable experience of limo travels.